Care in the community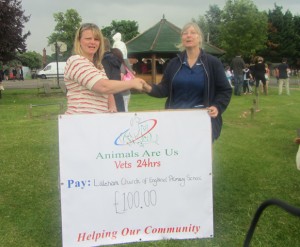 We take an exceptionally great interest in our local community, we have therefore a designated veterinary staff to encourage and enlighten the local youth on opportunities available in the veterinary field. To this effect we take work experience very seriously and have staff assigned to look after the students whilst with us.  Parents are always welcome to come on their orientation day to see what their children will be doing at Animals Are Us Veterinary Surgeries.
We support and contribute to various local projects ranging from school fund raising, local village fetes, to assisting in organising to provide Christmas Lights. See our Photo Gallery!  We are also involved either directly or indirectly with various charities which include The RSPCA, the Blue Cross, the Dog's Trust, Guide Dogs' for the Blind, Cats Protection and Hounslow Animal Welfare Society among others.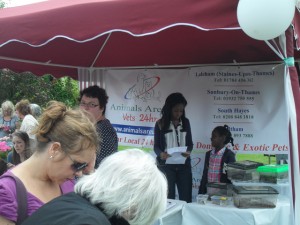 So, should you have a local project that may benefit from our funding or assistance, then do not hesitate to contact any member of our staff who will be pleased to assist.