At Animals Are Us, we ensure that there is always a dedicated team of qualified veterinary surgeons, nurses and professional administration staff to give your pets excellent service and instant access to a wide medical opinion and care. We have close links with several expert referral centres and we are therefore able to refer your pet to a specialist at short notice. We also have specialised veterinary surgeons who consult and operate at our surgeries in Hayes and Sunbury-on-Thames.
Dr David Muge, BVM. PhD. MRCVS. Principal Senior Veterinary Surgeon
Dr. David Muge BVM., PhD., MRCVS, is the principal veterinary surgeon and director of the practice.  After attaining his Bachelor of Veterinary Medicine (BVM) degree, he won a full academic scholarship to study for a doctorate degree (PhD) at the University of Bristol. After graduating, David spent the next three years in academia working at both Bristol and Liverpool Universities undertaking research and teaching veterinary medicines to undergraduates.
David spent a year working as a veterinary surgeon for the Kenya Wildlife Service Veterinary and this is where he acquired experience and expertise in Exotic Animal Medicine.   In the UK, he worked in several veterinary surgeries across the country as well as in London.  David wanted to provide a service that exceeded the expectations of pet owners and opened the first  Animals Are Us Veterinary Surgery in 1999.  The surgery was an instant success and now Animals Are Us is one of the best known and loved vets in West London and beyond.
David's main interest is to continue to establish and maintain professional, modern and competitive domestic and exotic veterinary surgeries with good value for money to clients without compromising their pets' treatment and health care.
Linda Simon, MVB. MRCVS:

Veterinary Surgeon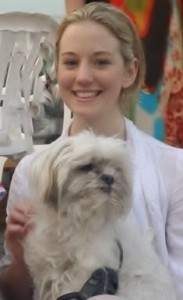 Linda qualified from University College Dublin Ireland, with the top grade in her class for small animals medicine. She then travelled throughout South East Asia before making the move to London in 2013, when she began to work for Animals Are Us. She has been bitten by the travel bug and has worked with vets around the world, including Portugal, Texas and South Africa. Her main veterinary interests include endocrinology, reproduction and diseases of the liver and pancreas. Linda has a dog called Fionn, an 11 year old Shih Tzu who is grumpy but loving! In her spare time Linda enjoys horse riding, yoga and spin classes.
Hannah Scully,MA, VetMB, MRCVS:

Veterinary Surgeon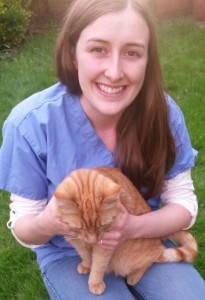 Hannah qualified from Cambridge University in the summer of 2014 and joined Animals Are Us shortly afterwards.  As a student Hannah volunteered with local RSPCA and PDSA clinics, and spent time at a small animal referral hospital specialising in medicine.  Hannah really enjoys the variety every day brings as a vet, and her main interests lie in dermatology, oncology and feline medicine. In her spare time Hannah often makes the trip back up north with her cheeky cat Albie, or can be found baking tasty cakes to replace chocolate, which strangely, she does not like !
Laura Trotman BVM BVS MRCVS: Veterinary Surgeon
Our newest member of the team is Laura who graduated from The University of Nottingham, and has since worked for the Blue Cross Charity Hospital, before joining us in February 2013. During her studies, she completed a project on canine cancers and presented it to world class specialists at the BSAVA conference. Alongside this, her particular interests include dermatology, ophthalmology and soft tissue surgery, and she hopes to take undertake certificates in these fields in the future. Her inspiration to become a vet came from Laura's cat Guinness who has hypertrophic cardiomyopathy and had struvite crystals in his urine at a young age. In her spare time, Laura enjoys baking, painting and travelling to exotic locations.
Louise Jackson Registered Veterinary Nurse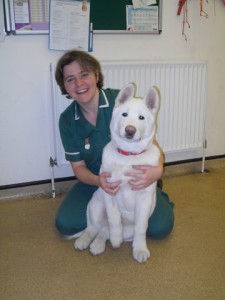 Louise is a long serving Qualified Veterinary Nurse who is a wealth of information on all aspects of veterinary nursing. Louise is also qualified to train veterinary nurse students who train and work at our surgeries.  As a nurse training practice, we at Animals Are Us Veterinary Surgeries, find this to be beneficial to our new young trainee nurses who have benefited for Louise's gentle, reassuring and thorough training methods. Louise is also responsible for submission of all your pet insurance claims.  Her interest is mainly in teaching nurses and caring for our inpatients.  Louise spends her spare time reading, swimming and going to the cinema. She has a 27 year old snake called Snakey, three cats and guinea pigs.
Toni Hill 

Admin/Receptionist
Toni joined Animals Are Us in 2002 and over the years she has developed excellent customer care which is often emulated by new vets and other staff.  Toni runs our Sunbury-on-Thames branch and knows most of her clients and their needs, and in particular those needing extra attention like prescription medicine and diets or those needing extra veterinary attention like cancer or diabetic pets. Toni is also responsible for insurances and financial matters which involve clients. She has an eye for detail, which is greatly needed when dealing with some of the complex insurance claims that we receive. Toni also arranges work placement for students from local colleges, institutions and schools as we take pride in opening our surgeries for others to learn. Toni has a German shepherd called Macy and a 65 year old tortoise called Herman. She enjoys badminton walking and swimming.
Loraine Sheldrick 

Admin/Receptionist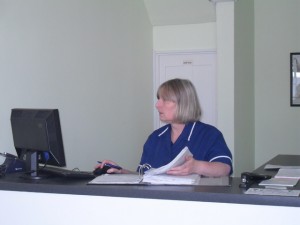 Loraine has been with us since 2006 and is our qualified first aider. Loraine did so well at our Feltham surgery that she was chosen to start the new Staines-upon-Thames (Laleham) surgery. Our clients in the Feltham surgery miss her reassuring presence she is however, making new client friends at our Laleham surgery. Loraine is consequently responsible for our Staines-upon-Thames (Laleham) surgery and is very much involved in our pet insurance duties as well. Loraine is extremely sympathetic to clients' needs and is always willing to assist above and beyond the call of duty.  She is involved in various Laleham village activities out of work.  Loraine has two cats, four ferrets and two dogs. Loraine is interested in Spiritual healing. She loves open space.
Chervaughn Archibald-William  

Receptionist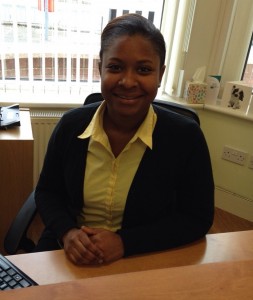 Chervaughn is the welcoming receptionist at our Hayes surgery. Her love of animals is clearly visible to all that meet her. She brings warmth through her smile and personality to all our Hayes clients. She is compassionate and helpful, always going the extra mile to give the best customer service to you and your pet. During her spare time Chervaughn enjoys meeting up with friends, cooking Caribbean dishes and travelling.
Maria Willcox

Student Veterinary Nurse
Maria is one of our trainee veterinary nurses hoping to qualify as Registered Veterinary Nurse (RVN) by the summer of 2013.  She has previously completed a university course in Conservation. Maria has a keen interest in ensuring that hospital patients are comfortable and is often seen checking the hospital sheets to ensure nothing has been missed and the pets are snuggled and warm.  With what little time she has left from work and her studies, Maria is a proud Mum to Turbo, an orphan duckling that lives at Duckingham Palace in her back garden! She also has two cats called Ginge and Jonah.  Her hobbies include painting, arts and crafts, and 1950′s dressmaking among others
Louise Heppenstall

Trainee Veterinary Nurse
Louise comes all the way from Wigan in the North West of England and moved  to London to work for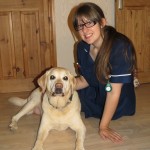 Animals Are Us. Previously, Louise studied Animal Management as a BTEC National Diploma. Currently, Louise is in her second year as a student and is due to qualify as a  veterinary nurse in 2016. Louise has a golden retriever cross labrador called Slaye, two bunnies which she rescued and two white campbell ducks. In her spare time she enjoys meeting up with friends and travelling back up north to visit her family.
Jenny-may Francis

Trainee Veterinary Nurse
Jenny joined us to facilitate her training as we are a training practice for veterinary nurses, she had previously worked for a local veterinary surgery. Like Louise Heppenstall, Jenny has already started her in house training and is hoping to register for day release training at the nearby Nurse training college.  Jenny has always loved animals and has already studied for a Diploma in Animal Management.  Jenny is patient with our clients and their pets, a quality which is of exceptional value in veterinary care. Jenny keeps horses and spends most of the time at her stable with here horses…not mucking out only!  She also has family dogs.
Mia Sheldrick

Trainee Veterinary Nurse
Mia joined the practice in November 2012; she has always had an interest in working with animals. She has 2 dogs, 2 cats, 3 ferrets and fish.  Mia will be starting her studies for preparation to join a veterinary nurse training college in summer 2013. Out of work Mia's interests include socializing and meeting up with friends.
Zakiya-Rose Muge 

Admin/Receptionist

Although Zakiya-Rose has been coming to the practice for a long time, she still works on part time basis as she is a full time student currently reading for her A levels. We have all hoped she would take veterinary medicine at university but her mind seems set on doing pharmacy.  Zakiya has a hamster which she co-owns with her little sister and enjoys going out to catch up with friends when not revising.