Accident and Emergency
Telephone: 07827382382
It is unfortunate that accidents and emergencies do happen from time to time, at Animals Are Us, we have trained vets, nurses and admin staff who manage our 24 hour accident and emergency unit. We have also invested in equipment and medicine so that we can treat your domestic and exotic animal pets immediately they are seen. Please call the surgery (above numbers) if your pet needs to be seen and a member of our staff will assess the case and may recommend for your pet to be seen.  We routinely require pets to be brought to one of our accident and emergency veterinary surgeries where our dedicated staff will treat and nurse injured and sick pets. We also provide advice over the phone for those clients not sure of what to do.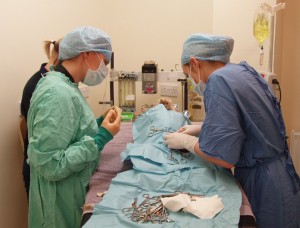 The cost of running a veterinary accident and emergency service is high and you will be asked to bring your insurance documents or make payment at the time of treatment as we do not receive any funding to subsidize this vital service.
If your pet is sick out of surgery hours:
Call the duty vet on 07827382382
A vet is not on site 24 hours a day, but can be on site within 25-30 minutes
Out of hours pets are usually seen at:
Petwell House, 319 Station Road, Hayes, UB3 4JF
Animals Are Us Feltham, 222 Uxbridge Road, Feltham, TW13 5DL
Cost
The initial consultation and call out fee is approximately £100, but depends on the time of day/night. Any other treatment or medications are additional to this. If you have a valid insurance policy this may help with the costs.
Overnight Care
We do not routinely have a member of staff on site overnight. Overnight checks are carried out and intervals decided by the duty vet.